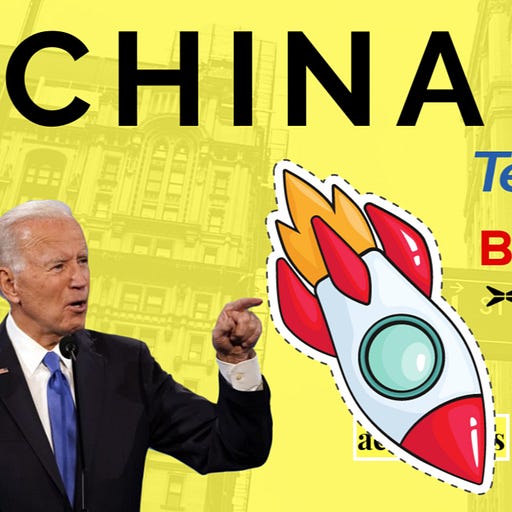 Dec 15, 2021 • 16M
Chinese Stocks FALLING! Time to BUY? Alibaba, Baidu, Nio, Tencent, Xpeng
The perfect Storm is happening
Welcome to Aconomics. A podcast that covers Finance, Economics, Stock Market and Entrepreneurship. Get an Aconomics episode every day! Find Aconomics Podcast anywhere you listen to podcasts and also check out our YouTube Channel and Newsletter!
The perfect Storm is happening today. 
1. The Biden administration is considering imposing tougher sanctions on China's largest chipmaker, according to people familiar with the situation, building on an effort to limit the country's access to advanced technology.
2. FED will report on the speed of tapering and rate hikes for this year and the next 2.
3. High inflation and a lot of uncertainty. Investors are taking money of the stock market and waiting. 
Alibaba (BABA), Baidu (BIDU), Tencent (TCEHY, 0700), NIO, XPeng (XPEV) and Li Auto (LI) are just some of the stocks dropping this week.
𝗙𝗼𝗹𝗹𝗼𝘄 𝗮𝗰𝗼𝗻𝗼𝗺𝗶𝗰𝘀:
► https://www.instagram.com/aconomicscom
► https://twitter.com/AconomicsCom
► https://www.tiktok.com/@aconomics
► https://www.linkedin.com/company/aconomics
► https://stocktwits.com/Aconomics
𝗔𝗯𝗼𝘂𝘁:
aconomics Inquiries: aj@aconomics.com
Best SEO agency: https://www.bauslabs.com
⚠️⚠️⚠️#Stocks #China #Alibaba ⚠️⚠️⚠️
📝𝗖𝗼𝗻𝘁𝗮𝗰𝘁 𝗜𝗻𝗳𝗼𝗿𝗺𝗮𝘁𝗶𝗼𝗻 𝗳𝗼𝗿 𝗔𝗰𝗼𝗻𝗼𝗺𝗶𝗰𝘀 & 𝗟𝗶𝗮𝗯𝗶𝗹𝗶𝘁𝘆 𝗗𝗶𝘀𝗰𝗹𝗮𝗶𝗺𝗲𝗿:
All content in this video is for entertainment purposes only. Some links are Affiliate links. I am not a professional financial advisor and my statements are not to be taken as instructions or directions. In no event will I be liable for any losses or damages arising from the use of content from any of my platforms, including, but not limited to, YouTube, Twitter, TikTok, Instagram, other social media nor Website. I reserve the right to change my opinions and entertainment content at any time. Please be sure to do your own due diligence.