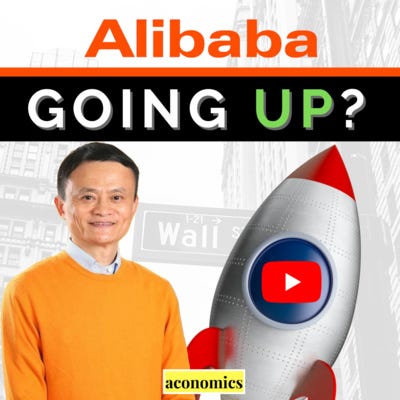 Dec 17, 2021 • 9M
Is Alibaba (BABA) A BUY now? News and expectations - New Plan
Alibaba BABA - Its Game Plan To Come Back From a Horrific Year
Welcome to Aconomics. A podcast that covers Finance, Economics, Stock Market and Entrepreneurship. Get an Aconomics episode every day! Find Aconomics Podcast anywhere you listen to podcasts and also check out our YouTube Channel and Newsletter!
Alibaba BABA - Its Game Plan To Come Back From a Horrific Year
The plan is to grow its international business and delve deeper into an under-served 15 trillion yuan ($2.4 trillion) rural Chinese e-commerce market, laying out its recovery plan after a devastating year marked by political and economic turmoil.
Alibaba, which at its peak was Asia's largest corporation with a $860 billion market value, has plummeted more than 60% since Feb 2021
Its domestically leading cloud division, local services such as food and grocery delivery, and logistics. Alibaba's cloud division, its second-largest revenue contributor, was a bright spot in the latest September quarter. Sales at that unit grew 33% during the period, accelerating thanks to investments in technology.
𝗦𝗶𝗴𝗻 𝘂𝗽 𝘁𝗼 𝗮𝗰𝗼𝗻𝗼𝗺𝗶𝗰𝘀 𝗡𝗲𝘄𝘀𝗹𝗲𝘁𝘁𝗲𝗿:
🚀 https://aconomics.substack.com/
𝗙𝗼𝗹𝗹𝗼𝘄 𝗮𝗰𝗼𝗻𝗼𝗺𝗶𝗰𝘀:
► https://www.instagram.com/aconomicscom
► https://twitter.com/AconomicsCom
► https://www.tiktok.com/@aconomics
► https://www.linkedin.com/company/aconomics
► https://stocktwits.com/Aconomics
𝗔𝗯𝗼𝘂𝘁:
aconomics Inquiries: aj@aconomics.com
Best SEO agency: https://www.bauslabs.com
#Stocks #Investing #Alibaba
𝗖𝗼𝗻𝘁𝗮𝗰𝘁 𝗜𝗻𝗳𝗼𝗿𝗺𝗮𝘁𝗶𝗼𝗻 𝗳𝗼𝗿 𝗔𝗰𝗼𝗻𝗼𝗺𝗶𝗰𝘀 & 𝗟𝗶𝗮𝗯𝗶𝗹𝗶𝘁𝘆 𝗗𝗶𝘀𝗰𝗹𝗮𝗶𝗺𝗲𝗿:
All content in this video is for entertainment purposes only. Some links are Affiliate links. I am not a professional financial advisor and my statements are not to be taken as instructions or directions. In no event will I be liable for any losses or damages arising from the use of content from any of my platforms, including, but not limited to, YouTube, Twitter, TikTok, Instagram, other social media nor Website. I reserve the right to change my opinions and entertainment content at any time. Please be sure to do your own due diligence.