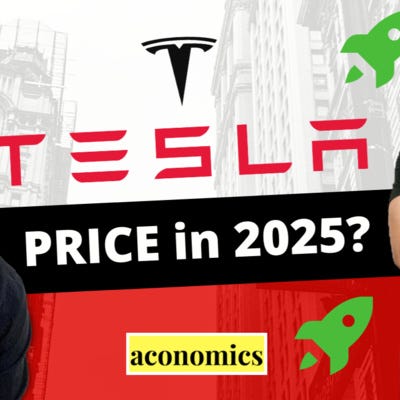 Jan 3, 2022 • 14M
TESLA Stock Analysis! Deliveries, Valuation and TSLA price 2025
Welcome to Aconomics. A podcast that covers Finance, Economics, Stock Market and Entrepreneurship. Get an Aconomics episode every day! Find Aconomics Podcast anywhere you listen to podcasts and also check out our YouTube Channel and Newsletter!
𝗡𝗲𝘄𝘀𝗹𝗲𝘁𝘁𝗲𝗿 𝗲𝗱𝗶𝘁𝗶𝗼𝗻: https://aconomics.substack.com
Youtube Channel: https://www.youtube.com/aconomics
Tesla (TSLA) delivered +930000 vehicles in 2021, Tesla is a BIG company now but still trading at over 350 PE, with a PEG of 2.3 and a valuation per car delivered in 2021 of 1.2 million, more than double of NIO, LI and Xpeng.
On this video we'll go over the price, the margins and expected growth for long term investors. Focusing on 2025 and assuming a 50% growth on earnings YoY which is a optimistic, and a lowering PE as the industry and company matures to 130 levels. 
Very eager to see this company evolve. What price do you see Tesla trading at in 2025? 
𝟬% 𝗰𝗼𝗺𝗺𝗶𝘀𝘀𝗶𝗼𝗻 𝗼𝗻 𝘀𝘁𝗼𝗰𝗸𝘀: https://med.etoro.com/B15707_A106725_TClick_SBuy%200%20comission.aspx
𝗙𝗼𝗹𝗹𝗼𝘄 𝗮𝗰𝗼𝗻𝗼𝗺𝗶𝗰𝘀:
► https://www.instagram.com/aconomicscom
► https://twitter.com/AconomicsCom
► https://www.tiktok.com/@aconomics
► https://www.linkedin.com/company/aconomics
► https://stocktwits.com/Aconomics
𝗔𝗯𝗼𝘂𝘁:
aconomics Inquiries: aj@aconomics.com
Best SEO agency: https://www.bauslabs.com
⚠️⚠️⚠️#Stocks #Investing #Tesla⚠️⚠️⚠️
📝𝗖𝗼𝗻𝘁𝗮𝗰𝘁 𝗜𝗻𝗳𝗼𝗿𝗺𝗮𝘁𝗶𝗼𝗻 𝗳𝗼𝗿 𝗔𝗰𝗼𝗻𝗼𝗺𝗶𝗰𝘀 & 𝗟𝗶𝗮𝗯𝗶𝗹𝗶𝘁𝘆 𝗗𝗶𝘀𝗰𝗹𝗮𝗶𝗺𝗲𝗿:
All content in this video is for entertainment purposes only. Some links are Affiliate links. I am not a professional financial advisor and my statements are not to be taken as instructions or directions. In no event will I be liable for any losses or damages arising from the use of content from any of my platforms, including, but not limited to, YouTube, Twitter, TikTok, Instagram, other social media nor Website. I reserve the right to change my opinions and entertainment content at any time. Please be sure to do your own due diligence.