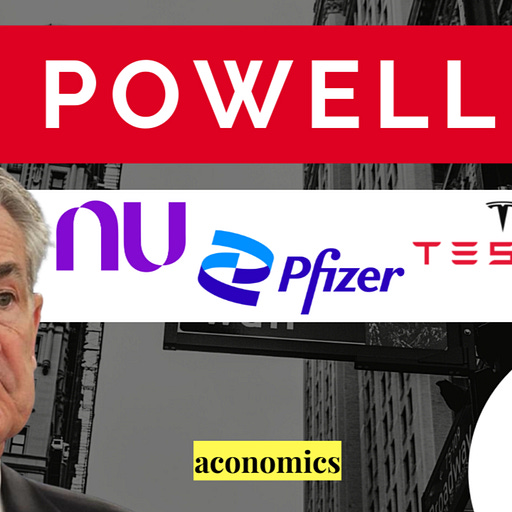 Dec 14, 2021 • 15M
Stocks Sell-off - Market, Jerome Powell and Sell the Rumor, Buy the New
Welcome to Aconomics. A podcast that covers Finance, Economics, Stock Market and Entrepreneurship. Get an Aconomics episode every day! Find Aconomics Podcast anywhere you listen to podcasts and also check out our YouTube Channel and Newsletter!
Pfizer & Solana are trending on Twitter
All omicron cases for which there is available information were either asymptomatic or mild, European health authorities said. Pfizer pill stops hospitalization but not milder symptoms.
When they had unvaccinated people use it within 3 days or the appearance of symptoms, it reduced hospitalizations by 89%.
This is bullish. Slowly we are making progress back towards normality, though it may not feel like it.
And Solana getting hyped and trashed on Social Media, on one side, Justin Kan (twitch cofounder) released "Fractal" a Solana-based market place for gaming NFT, but on the other side, they got hacked.
Jerome Powell at it again
Jerome Powell is expected to kick off Fed tapering—at a quicker pace than predicted a month ago as inflation surges.
Fed officials will meet today and tomorrow. Powell will have a post-meeting press conference tomorrow at 2:30 p.m
Tesla touching 940
Elon Musk is accelerating his disposal of Tesla Inc. shares after last month's Twitter poll, as he exercises more options. The world's richest person offloaded another 934,091 shares for about $906.5 million to cover taxes on the exercise of 2.1 million options. He's already sold almost 12 million shares since he pledged on Twitter to get rid of 10% of his Tesla stake – which would amount to about 17 million shares without taking into account his exercisable options.
NU Holdings (Nubank) falling
After the IPO, Nu Holdings are at 10 usd/share. After just 3 days of trading, the bank is worth 46 Billion but might be to overvalued for investors in this climate. The Warren Buffet backed bank might need some time to justify such a valuation but in the meantime, we'll probably see it below 10.
▬ Contents of this video  ▬▬▬▬▬▬▬▬▬▬
0:00 - Intro
2:15 - Market Update
4:00 - Jerome Powell and Central Banks
5:50 - Pfizer Pill UBS Buy
8:05 - Tesla at 930
9:45 - Elon Musk Doge and Crypto
10:50 - Solana
12:00 - Nu Holdings Nubank
𝗙𝗼𝗹𝗹𝗼𝘄 𝗮𝗰𝗼𝗻𝗼𝗺𝗶𝗰𝘀:
► https://www.instagram.com/aconomicscom
► https://twitter.com/AconomicsCom
► https://www.tiktok.com/@aconomics
► https://www.linkedin.com/company/aconomics
► https://stocktwits.com/Aconomics
𝗔𝗯𝗼𝘂𝘁:
aconomics Inquiries: aj@aconomics.com
Best SEO agency: https://www.bauslabs.com
#Stocks #Investing #Markets
𝗖𝗼𝗻𝘁𝗮𝗰𝘁 𝗜𝗻𝗳𝗼𝗿𝗺𝗮𝘁𝗶𝗼𝗻 𝗳𝗼𝗿 𝗔𝗰𝗼𝗻𝗼𝗺𝗶𝗰𝘀 & 𝗟𝗶𝗮𝗯𝗶𝗹𝗶𝘁𝘆 𝗗𝗶𝘀𝗰𝗹𝗮𝗶𝗺𝗲𝗿:
All content in this video is for entertainment purposes only. Some links are Affiliate links. I am not a professional financial advisor and my statements are not to be taken as instructions or directions. In no event will I be liable for any losses or damages arising from the use of content from any of my platforms, including, but not limited to, YouTube, Twitter, TikTok, Instagram, other social media nor Website. I reserve the right to change my opinions and entertainment content at any time. Please be sure to do your own due diligence.